With the Ologie driven brand redesign launched in 2015, WVU adopted a comprehensive and integrated branding strategy that it has the potential to be implemented into every aspect of communication. As an internal member of the organization, I've had a unique view of the rollout — like getting to see the pros and cons and comparing standards against created pieces.
Most of WVU
's brand is centered around the mark known as the flying WV. This logo was created in 1980 by brother of the WVU athletic director, Dick, and Kansas City graphic designer John Martin for a mere $200. Martin created the logo to reflect the unique topography of the state, mountains. "When you put a W and a V together, you had mountains. They may call it the Flying WV but to me, it depicts mountains."
WVU authorizes a large variety of products available in the marketplace. Through its licensing agent, the Collegiate Licensing Company
, WVU has more than 500 licensees authorized to produce merchandise bearing WVU trademarks. Prominent companies include Nike, Perry Ellis, Tommy Hilfiger, Upper Deck, and Victoria's Secret.
While these third-party vendors may use the logo in a more relaxed manner, there are strict guidelines attached to the brand.
The scale of bold to traditional (like the one seen on the type specimen) is used in many parts of the style guide to help the designer identify proper elements for consistent messaging.
Bold is geared more towards recruitment materials to generate excitement and traditional for a more sophisticated topic or audience, such as alumni or donors.
 Also introduced was a new graphic element, diagonal lines. The unique part of the line is that it has been developed based on the angles of the Flying WV logo at 33.75 degrees.
The University's web presence has not totally conformed to the new branding, but a few sites have been revamped to reflect the brand. Internally, there has been a push to update all high-level sites, with a focus on traffic of potential students, consistent with the new messaging.
Ologie identified these traits that well represented West Virginia University and created the brand's foundation: pioneering, tireless, passionate, grounded, innovative, caring. From those traits the voice was created. The style guide promotes the use of verbs, especially those ending with -ing. There's also some rules and examples that help to navigate the messaging — though they seem to be pretty subjective:
Be confident, without being arrogant.

Be bold, without being aggressive.

Be direct, without feeling trite.

Be challenging, without being implausible.

Be inspirational, without being sentimental.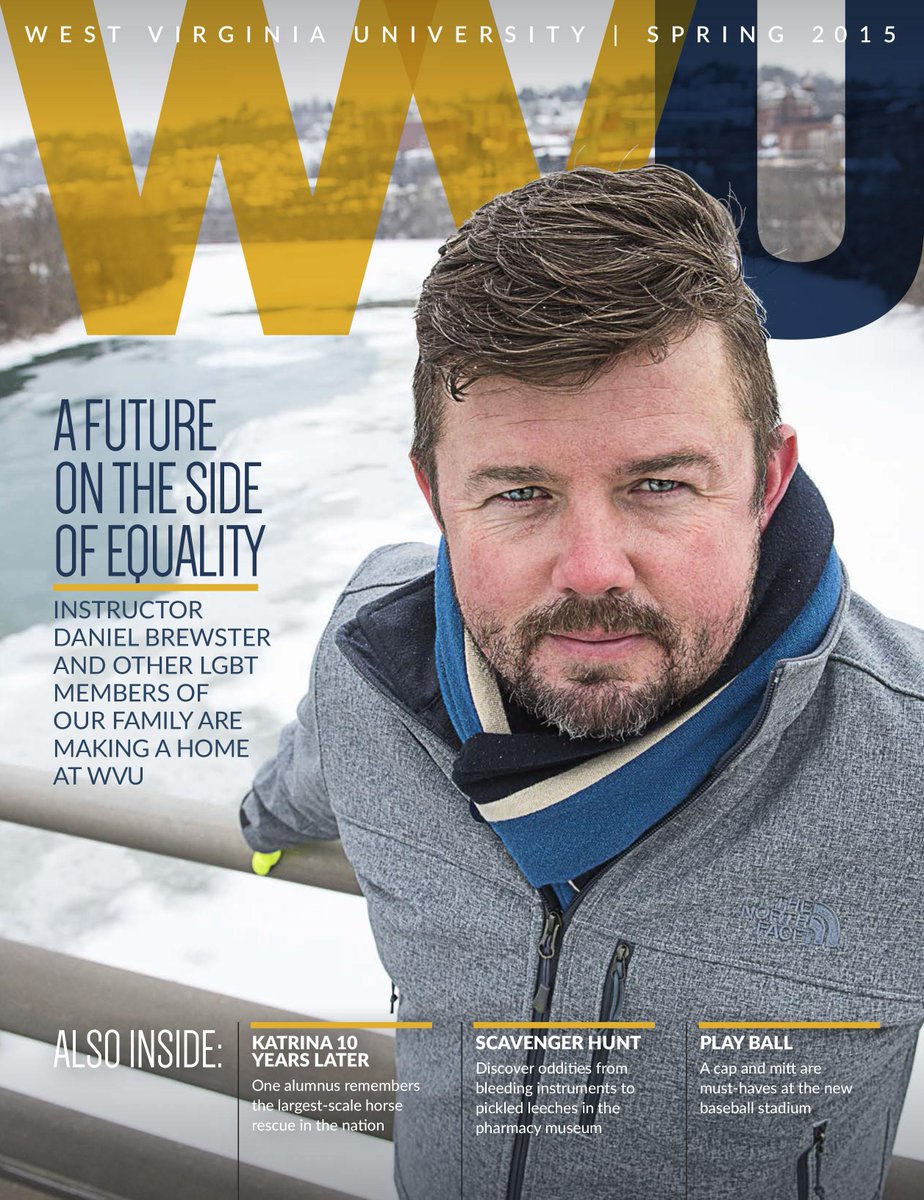 Newly created print pieces after the brand launch tend to adhere well to the new standards, however there are always outliers based on the public access given to brand elements. Non-designers and non-writers may be able to manipulate elements to their liking, but may stray from the set guides. Beyond the traditional web and print collateral. WVU has many social media profiles and a few mobile apps — though the number of apps has been greatly reduced with the implementation of responsive web design. One of the most notable apps is WVU gameday. This app, managed by the athletics department, features live game audio streaming, social streams, game day schedule of events, stats, weather alerts, and play-by-play information.
Social Media has also played a large role in WVU's voice development. Tony Dobies is the social media strategist at West Virginia University and first took a step to unify the University's social media presence using a ten-step process outline in his social media plan for the 2014-2015 school year .
Create a university-wide guideline for personality and suggested voice.

Create a set of university-wide social media goals that can be passed down to other colleges/departments.

Create a social media users group.

Create a student social media ambassador program.

Re-develop our social media website.

Start using Snapchat.

Develop a marketing campaign around social media.

Start "A Day in the Life" project

Create a social media consultation process for colleges and departments.

Develop ways to share success.
Dobies also created another article that detailed the immense success of launching the University Snapchat profile and how it is used to engage students.
So, after collecting this information it seems like West Virginia University is taking steps to become more consistent with messaging, however at this time items across all media vary widely. Personally, with such a massive brand I am unsure if all sources will be equally consistent due to third-party vendors and multiple units producing touch-points without much creative control from the central design office. No creative team would be able to analyze and approve each and every item on this scale. By doing a quick Google image search for WVU, it's clear to see that a brand has many widely varied forms.